Scrum Event Presents: Travelling Cloak: A Journey to the Powerfully Unknown
Tuesday, July 2, 2019
An interesting and practical workshop evening at tonight's Scrum Event in London. Thanks to Suzanne Doyle and Kwasi Owusu-Asomaning for taking us through DTA and Lands Work, and thanks to John Barratt for hosting. 
Travelling Cloak: A Journey to the Powerfully Unknown
SCRUM has little to do with tech and everything to do with PEOPLE Sasha 
Is your Scaled Agile working? Super energise Tribe and squads through trying on the travelling cloak.
One of the biggest issues we have witnessed is squads having no connection to other squads in a Tribe, and Tribe leadership having limited to no connection with the squads. The learning pathways are blocked and tend to get into a toxic pattern – 'it's not my fault, it is Fred's'. There is a blaming pattern and stonewalling going on. Through this exercise, we will take participants on an incredible journey that they can take away to connect across squads in a Tribe to reach powerful new levels of collaboration. You can apply this to departments too.
We have tried out some methods and the Lands work from ORSC (Organisation and Relationship Systems Coaching) is incredible, to quickly build Trust through Empathy and get into action. This is for individuals to stretch into a new awareness about how other people perceive reality. When one can cross the edge and step outside one's held position, culture, expectations and stand in the shoes of a person in a different reality, then there is the true possibility for new insights and personal growth.
What is ORSC? 
ORSC™ stands for Organization and Relationship Systems Coaching.
ORSC™ is an integrated and robust coaching model based on RSI (Relationship Systems Intelligence™).
Beyond EQ (Emotional Intelligence) relationship with oneself and SI (Social Intelligence) relationship with other is the realm of RSI (Relationship Systems Intelligence) where one's focus shifts to the relationship with the group, team or system. This approach creates sustainable and resilient teams and families.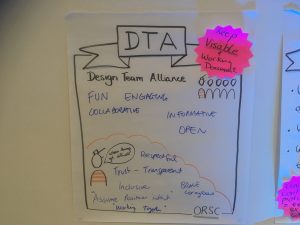 Venue Sponsor:
Optional SIGN UP with Skills Matter for faster access on the day here:
https://skillsmatter.com/meetups/12385-scrum-event-july-meetup